Grateful to Our SiMa.ai family, customers, investors, advisors and partners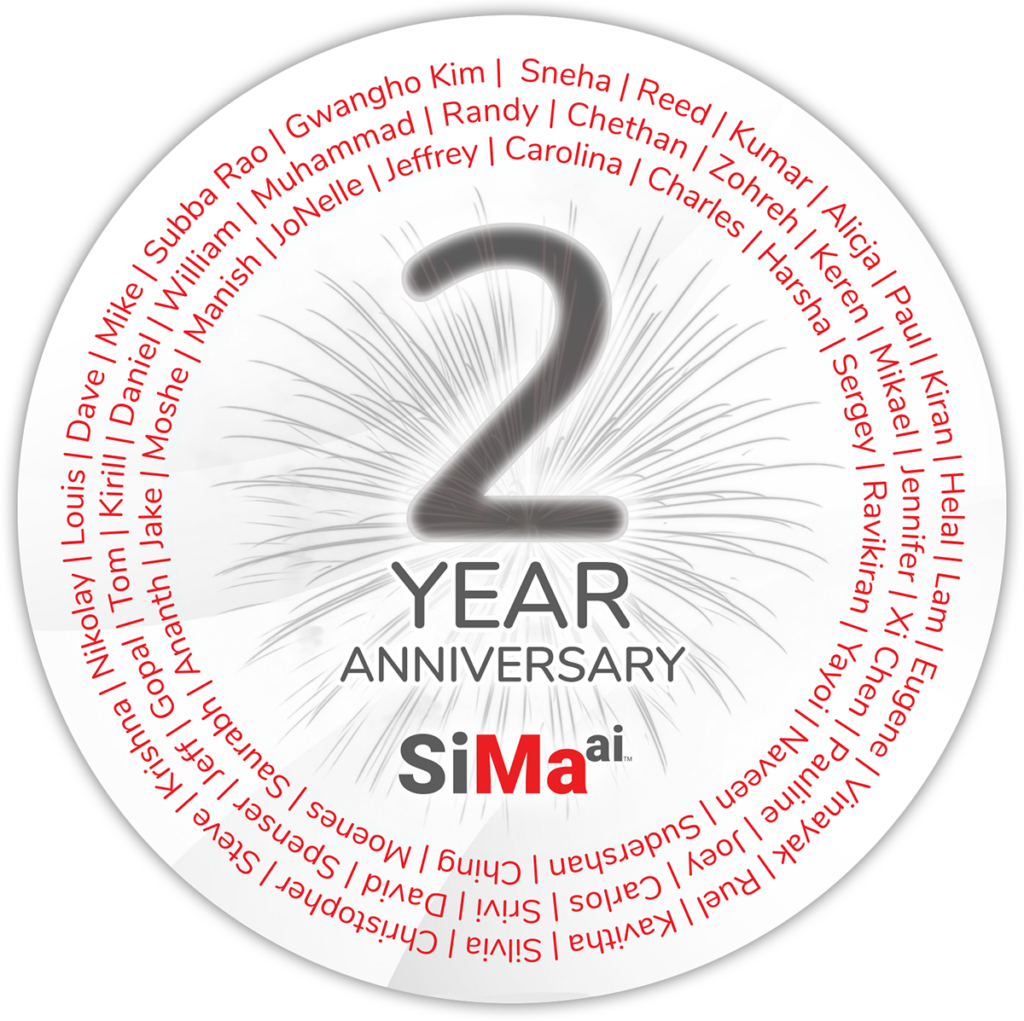 It's been an amazing two years. As I start to write, I remember my mother's advice, "One day, as you reflect, you may not remember what you did in your life but you will always vividly remember who you did it with and the good times and challenges you shared together. Cherish all around you as family." And, it's with this sentiment that I reflect on SiMa.ai's two year anniversary.
I'd spent much of my career working in the semiconductor industry and rose up through the ranks from an engineer to run all aspects of the business. While I thrived on the opportunity a corporate role afforded, I yearned for hands-on work that could drive innovation and directly impact customers in a very significant way. 10 years in the making was my relationship with Steve Rosston, well-respected investor, technology executive, and business colleague. Given my years of experience and hundreds of customer engagements, together with Steve's experience, we saw a huge opportunity and challenge to build a company and bring machine learning at scale to the embedded edge and make a significant difference to customers and their businesses. We incorporated the company back on Nov 20th of 2018.
Over the last two years, we've focused on building a family-centric culture that fuels innovation. Our desire was to build a technology company that made a very big positive difference to customers and help solve big challenges in the embedded edge and play our part to make the world a better place. With this as our purpose, then, it became all about building an amazing team — a family composed of employees, contractors, advisors, investors, and ecosystem partners — all committed to build machine learning (ML) technology that delivers the industry's highest frames per second per Watt (FPS/W) offering.
We have one of the best machine learning focused teams in the industry. They include technical engineering Fellows from major chipmakers, some of the best semiconductor and software architects on the planet, and top technologists that have engineered, built and delivered amazing software and hardware products over their careers. We invested heavily in building a strong business and systems applications team from day one that engaged closely and have partnered with 20+ customers globally — and this has become a key competitive edge for us. We also are so lucky and privileged to have a board of directors composed of industry veterans who are by our side and help guide us through the challenges and celebrate our accomplishments. Starting from two people, we are now a disciplined team of 50 and growing. Even during the COVID-19 pandemic, we've held it together as a tight knit team through collaboration, celebrations, and daily interactions.
Thank you to our SiMa.ai family, who have taken a risk to achieve our common vision of enabling high performance compute at the lowest power. All the hard work, long hours, and dedication to taking SiMa.ai from a dream to a reality is greatly appreciated. On our road towards building an amazing architecture, along the way, we have broken many rules and put the end goal above any one person's opinion or approach. We have a lot of work ahead of us. We've enjoyed the process of building a brand new product category in our MLSoC™ platform and are energized to tackle the work ahead of us.
Our customers have guided us from the beginning, providing the north star for our focus. Thank you to our customers for their contributions as we move our innovative architecture and development efforts towards tape out and production. We've spent the last two years listening to them, understanding their challenges and helping us to build our technology so that it meets their needs. Currently, we are working with over 20+ industry leading customers in the areas of robotics, smart cities, autonomous vehicles, government and medical sectors. Thank you for all of your inputs, interactions and excitement as we move towards tape out and production of our software and hardware.
We are grateful to our advisors who support us with their business expertise. To our seed investors Amplify, Wing, +ND Capital who believed in us from early days and Dell Technologies Capital who led our recent $30 million Series A funding round joined by Alter Capital. Together, our advisors and investors help us each day take the company to the next level of success. And, thank you to our partners: Arm, Synopsys, and GUC, without whose technology partnership, we would not be here today.
As we look to 2021, we are excited to move into production of our MLSoC, the industry's first unified solution to support traditional compute with the highest performance, lowest power, safe, and secure machine learning inference.
We believe that our advanced machine learning technology is coming at the right time as customers are now ready to embrace the ramp up of machine learning to address computer vision applications at the embedded edge.
Personally, as we continue in our journey to build breakthrough technology and an amazing company, my mom's advice continues to be my north star. I am humbled at the opportunity to be a part of such an incredible family, all committed to our innovation, execution, and our obsessive focus to help our customers to achieve their goals.